As a FitLife member, your membership account is linked to a self-service portal on the web through FitLife's club management software, EZFacility. With access to the self-service portal you can review your membership profile details, update your credit card information, as well as book into available Zoom sessions on the Group Exercise Class schedule! **You will need to complete this set-up to have a self-service account as well as have an active FitLife membership in order to access Zoom class offerings!
Follow this link to the FitLife Self-Service login page to begin set-up and access your account: https://FitLife.ezfacility.com
The landing page is the login page. Before you can access your self-service account you will have to login or register for an account.
1. Log in - If you have already created a self-service account enter your Username and Password and click "Log In".
2. Register - Click the "Register" button in the bottom right of the login page.
a. Section 1:
i. Enter your full First Name, full Last Name, and your Email address.
ii. Below that, enter in a Username of your choice, create a Password, then type in your Password again to confirm it.
b. Section 2:
i. Then, verify that you are not a robot by checking the box next to where it says, "I'm not a robot."
ii. Finally, click the gray "Register" button at the bottom of the window. You will be taken back to the login page to login with your new Username and Password.
c. At the top of the login page in the green box it will say "Thank you for registering. Please check your email to complete the registration."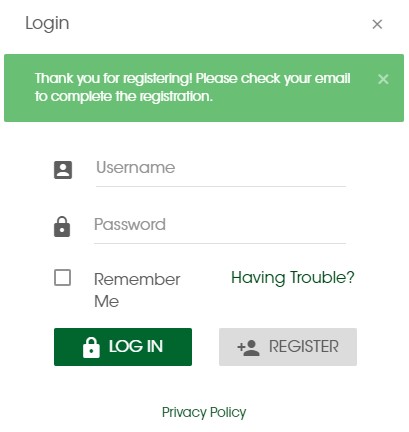 d. When you check your email you will be asked to complete your registration, click the green button that says "Complete Registration".
i. You will be taken to a window to continue filling out your basic information. Be sure to keep a check mark next to Email Campaigns, Session Reminders, and Credit Card Expirations to always stay updated! Please complete this section and click the green "Submit" button at the bottom of the window.
ii. Your registration confirmation is successful and you will be guided to the log in page!
iii. Enter your Username and Password and click the green "Log In" button to access your self-service account.