Easter Sunday - Facility Hours
Spring is near! So is the Easter holiday! Keep in mind that the fitness center will be open on Easter Sunday, April 1st, from 7:30am-1:00pm. All classes and childcare will be cancelled for the day. Regular facility hours will resume the next day.
Doris Swarn and Janet Varley join our team of Personal Trainers!
Help us welcome Doris Swarn and Janet Varley, the newest Personal Trainers to join the FitLife team! They're ready to help you reach your health and fitness goals. Read their biographis below, and feel free to be in touch with them if you're interested in learning more about personal training services at FitLife!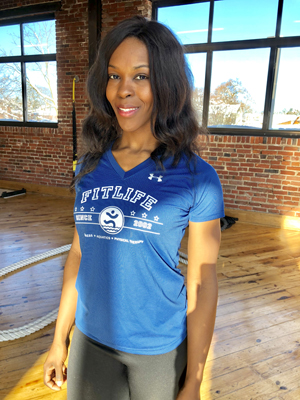 (c) 215-605-7895
dorisswarn2@gmail.com

Doris graduated with a Bachelor's Degree in Business, and later acquired her Personal Trainer certification from the American Council on Exercise. Doris has always been fitness oriented, but it was her work with CAMcare and Cooper Hospital as a health coach that inspired her to pursue personal training. Her goal is to educate people of all ages about the benefits of living a healthy lifestyle and to create fitness programs that help fulfill each person's goals. Doris has an extensive background in aquatics with certifications for USA Swimming and she has experience coaching both adult and youth swim teams. She also teaches water aerobics and Zumba courses around the city. In the spring and summer months, Doris participates on a competitive Dragon Boat Team and in fitness competitions. Doris is not a Philadelphia native, but it is a place she has come to call home.
(c) 215-370-3633
janetkvarley@gmail.com
Janet received her personal training certification from The National Personal Training Institute (NPTI) in 2009 and has been working with a diverse clientele ever since. She graduated from Villanova University with a B.S. in Mathematics in 1987 and worked as an actuarial assistant and statistical analyst before leaving her career to raise her two children. Her passion for fitness and nutrition is what led her to NPTI. Janet takes a comprehensive approach to fitness by encouraging gains in not only strength but also power, flexibility, mobility and agility. No matter what your fitness level or age is, she will help you train like an athlete – to find your weaknesses and eliminate them! Janet focuses on improving muscle balance by using proper technique and movement patterns. She also offers nutritional consulting to help you achieve your fitness goals and improve your quality of life.
Family Swim
Join us for our Family Swim event on the following Sundays from 1:00-5:00pm:
March 25th

April 8th & 22nd

May 6th & 20th
FitLife mobile app available for download!
Download the FitLife mobile app for an easy way to access gym information, schedules, and more!
You can now add classes to your calendar, scan your membership ID to check-in, retrieve gym details, and find the latest updates on FitLife including photos and videos, right from your smartphone. In addition, you can also share your fitness updates via Facebook, where friends can feel free to join you on your endeavor to get fit and stay healthy.
To get our app, visit the iTunes App Store or Android Play Store and search for "FitLife Fitness & Aquatics" to download it directly to your mobile device. Once downloaded, you have the ability to look up and add classes to your calendar, view hours of operation, and see any current announcements and events.
We are confident that with this tool, it will be easier than ever for you to stay up to date with what's going on at FitLife, and helps you make the most out of your fitness experience with us.
Download it now!