Our staff is what sets FitLife apart. Each of our profesional staff members have a degree in exercise physiology, kinesiology, physical therapy or a related field. Not only will you have the ability to learn from experienced and knowledgeable staff, but what we hope what you notice most about FitLife is the warm and friendly welcome you will receive when you enter our doors. We strive to provide you the absolute best service and environment possible.
Joseph Zeleznock, MSPT
Owner/Operator

Joe is owner and operator of FitLife as well as a Licensed Physical Therapist.
Joe received his Bachelor's Degree from the University of Massachusetts at Amherst in Exercise Physiology. After graduation, he gained experience as an exercise physiologist in numerous outpatient physical therapy settings. From these experiences, his passion grew to open his own center that would provide comprehensive care for the patient and fitness member alike. He later moved to Pennsylvania and completed his Master's Degree in Physical Therapy from Neumann College. Throughout graduate school, Joe managed a Wellness Center which afforded him the opportunity to gain experience operating a full wellness center including both fitness, aquatics and rehabilitation.
Joe remains passionate about opening many FitLife facilities which include both fitness and rehabilitation under one roof guided by highly trained staff while providing the best in customer service. Joe continues to treat patients at FitLife in our physical therapy department, as well as operate the business.
Madeleine Spencer, PT, DPT

Madeleine grew up in Philadelphia, graduated from Masterman High School in 1995, and then went on to the University of the Sciences to pursue her Master's Degree in Physical Therapy. She began working at the Philadelphia Medical Center in 2000 where she had the honor of working with our military men and women. She worked at the VA for 10 years gaining experience in outpatient physical therapy, acute care, rehab, and long-term care. She was a part of the Polytrauma team who provides assistive technology in order to maximize the quality of life for brain injured and wheelchair-bound veterans. During this time, Madeleine also completed her Doctorate of Physical Therapy through Temple University.
Madeleine is married and a mother of 2 beautiful children. She believes in trying to learn something new everyday.
Leticia English, PT, DPT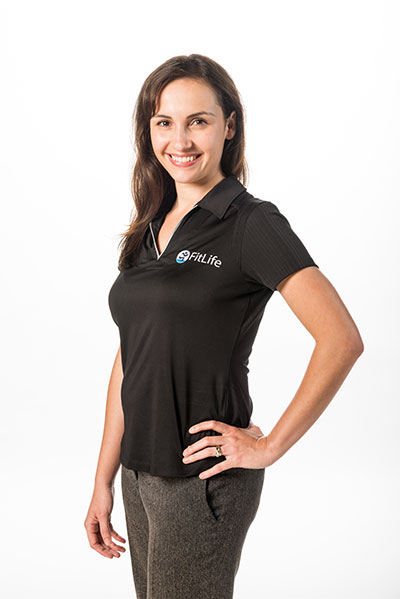 Leticia earned a Bachelor's Degree in Kinesiology from the Pennsylvania State University, and a Doctorate Degree in Physical Therapy from Shenandoah University. After graduation she worked in developmental pediatrics at the Children's Hospital of the King's Daughters in Norfolk, Virginia for one year, and Cincinnati Children's Hospital for four years where she specialized in neurological and orthopedic disorders. While at Cincinnati she received her Certification of Vestibular Rehabilitation from Emory University and instituted a Pediatric Balance Center at Cincinnati Children's Hospital, treating a wide range of dizziness and balance disorders including concussions, BPPV, vestibulotoxicity (from chemotherapy and antibiotics), vertigo associated with migraines, cervicogenic dizziness, and vestibular hypofunction. She has recently relocated to Philadelphia with her husband and is looking forward to improving patient's quality of life, and helping them return to their peak level of function.
Valerie Malizzia, PT, DPT
Valerie grew up in Bucks County and is a graduate of Lebanon Valley College where she received a Bachelor's Degree in Health Science in 2011 and a Doctorate Degree in Physical Therapy in 2013. While at LVC, she became involved in the C.U.R.E. Clinic, a student-run outpatient physical therapy clinic which serves the uninsured and underinsured members of the surrounding college community. Valerie was a four year starting pitcher for Lebanon Valley College's softball team, and has always been interested and involved in athletics, injury prevention, and injury rehabilitation. Val is enthusiastic and passionate about becoming a new member of FitLife's team as a Physical Therapist, and is eager to provide quality, individualized care to all patients.
Christopher Masse, PT, DPT
Chris received his Bachelor of Science Degree in Kinesiology from the University of Massachusetts at Amherst in 2008. While at UMass he was a member of the track and field team for three years and the club soccer team for one year. Chris graduated from Temple University in 2013 with a Doctorate Degree in Physical Therapy. Within physical therapy Chris is especially interested in Orthopedics and Sports Rehabilitation. He strives to provide the best evidence based treatment to optimize function and return patients to sports and activities they enjoy. Aside from physical therapy Chris enjoys running, snowboarding, surfing, mountain biking, playing soccer and coaching youth soccer.
Jaci Hazard, PT Operations Coordinator, Exercise Physiologist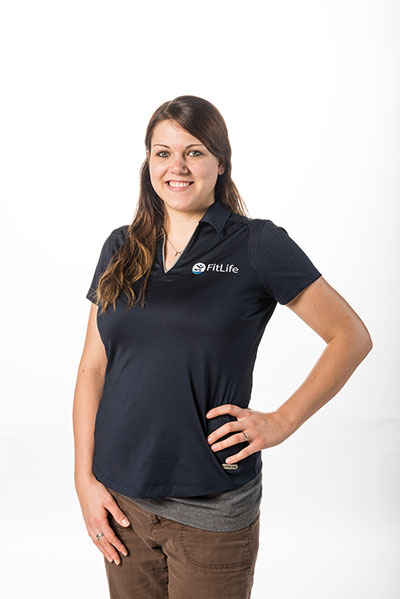 Jaci graduated from Bloomsburg University in 2010 with a Bachelor's Degree in Exercise Science and a concentration in Physical Therapy. While attending Bloomsburg, she worked in the student recreation center and gained experience personal training. She completed her internship at an outpatient rehabilitation center and realized that helping people improve their physical condition was very rewarding. Through the years Jaci has come to believe that exercise is a key aspect to living a long, healthy life. Working one-on-one with patients and bulding relationships is something Jaci truly enjoys. In the future, Jaci would like to go back to school to become a licensed physical therapist. She played softball for 15 years and coaches a children's team. She has always liked sports and anatomy and physiology which makes her a perfect fit as an exercise physiologist at FitLife.

Bridget Welz, Exercise Physiologist
Bridget Welz has earned her Bachelor of Science Degree in Exercise Science/Sports Management from Immaculata University where she also was a 4-year starter, 2-year Captain, and 1000 point scorer on the Women's Basketball team. Bridget's true passion for training and embracing a healthy lifestyle has influenced her training mentality of "Healthy Body=Healthy Mind". She is a Kettlebell Certified Trainer (KIWK) with experience and expertise in training clients of all ages and levels. Bridget believes that training not only makes you look and feel better physically, but benefits the mind tremendously.
What sets Bridget apart is her ability to work with people of all ages and abilities, whether you are looking for that extra push or you are new to the fitness world and looking to embark on a new journey, Bridget can give you what you need. With a focused and determined mind you can achieve anything. Bridget will be the light through the sometimes unclear fitness world of fitness. With her guidance and expertise she will push you to your limits to create a lifestyle of clarity connecting your body and mind. Bridget tailors her workouts to her clients' needs, goals and mentality.

Caitlin Schaff, Exercise Physiologist
Caitlin received her Bachelor's Degree in Biology from the University of Wisconsin-Madison in December 2009. After graduation she moved to Oklahoma where she worked at Community Hospital in their Outpatient Therapy Department for two years. She and her husband moved to Minnesota where they both worked at Mayo Clinic for a year before recently relocating to Philadelphia. Caitlin enjoys working closely with patients, helping them recover from all different types of injuries, and ultimately enabling them to return to their everyday lives. Ultimately, Caitlin would like to attend graduate school and become a physical therapist. She believes that FitLife is a great, unique environment for helping patients maintain an active lifestyle after they have completed therapy.

Janet Hayes, Personal Trainer
Janet is certified through both the National Association of Sports Medicine (NASM) and AAAI/ISMA to deliver safe and effective personal training to people of all ages and levels of fitness. Janet earned a Bachelor's degree in Public Communication from Temple University where she also took elective coursework in Biology, Anatomy, and Physiology and graduated on the Dean's List. She has the long-term goal of earning a Physical Therapy degree. Her diverse athletic background includes, martial arts, track and field, and over 25 years as an equestrian. Janet's passion for fitness developed through her own personal struggle through an 80 pound weight loss transformation while a working single mother. In 2012, she won her first bodybuilding title: Miss Bikini Model Philadelphia! Today, Janet is a competitive Figure athlete, and has aspirations of earning her IFBB Pro card. Since 2010, she has specialized in developing fitness programs that motivate her clients to reach their goals through her upbeat, participatory coaching style and visualization techniques. She specializes in correcting muscle imbalance, strength training, and body sculpting. Janet practices what she preaches and her personal training philosophy relies on many facets: compassion, integrity, and dedication.